LCR E-TEAM RIDERS BATTLE THROUGH WET CONDITIONS IN AUSTRIA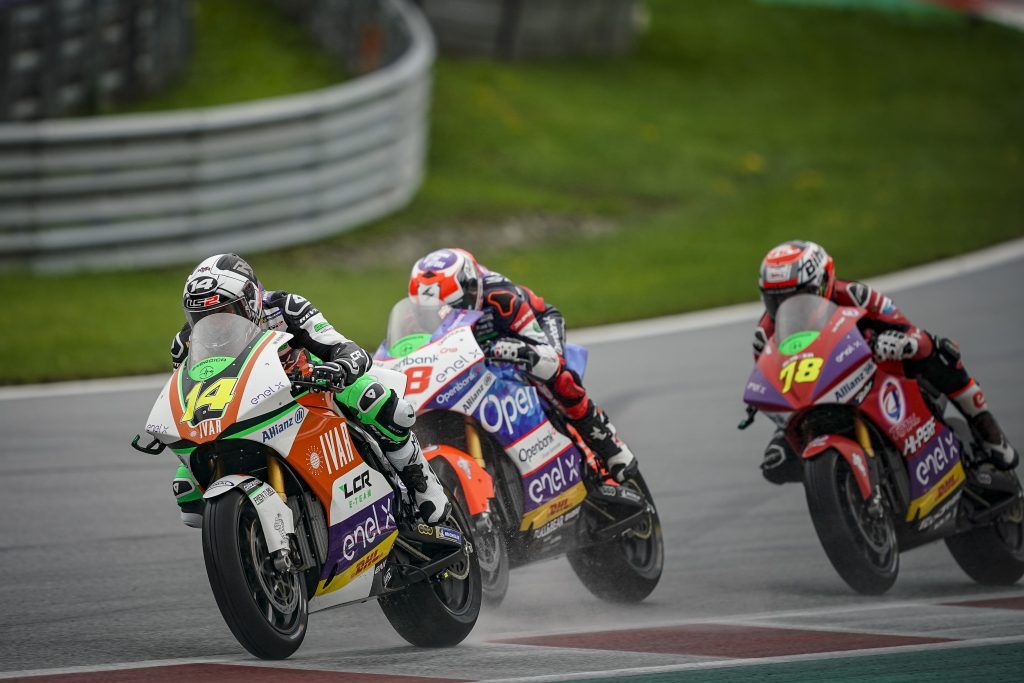 The second race in the FIM Enel MotoE World Cup took place in Austria today, with the race running in wet conditions. The race was reduced to 5 laps due to the rain and was action-packed from start to finish.
LCR E-Team riders fought hard to produce a strong result, with Niccolò Canepa finishing in 8th position (promoted one position after the race finish due to Raffin overtaking under a yellow flag) and Randy de Puniet in 12th. Both riders rode well in the tricky conditions, and both improved through the race from their qualifying positions.
Both riders finished higher than in the first race in the Sachsenring, showing increased confidence and performance that they and the team wish to continue. Randy de Puniet felt much more confident during this race after some changes to the bike and improved significantly from his starting position of 18th.
LCR E-Team and the riders look forward to the next races in Misano and hopefully continuing this increasing level of performance.
Niccolò Canepa – 8th:
"I am satisfied because we have never ridden these bikes in the full wet before, so the conditions were new for everybody. We learnt a lot during the race and now we understand a little bit better what to do on the bike. I improved some positions from my qualifying result, and we are now not too far from the top 5. We have to keep working like this, we can see the improvement from the test and from the first race. At the next race, which will be the home round, hopefully we can do something better."
Randy De Puniet – 12th:
"First, I would like to thank the team because yesterday they changed a lot on the bike, like the frame and the swingarm. The race was in the wet, but in these conditions my feeling was much better with the bike so I really hope we found the problem. It was quite a good race because I started from the last position and finished 12th, fighting with some riders. It was a positive race and I hope in Misano we will come back at a good level. I leave here more confident than at the Sachsenring so we'll see what happens at the next race."