LCR E-TEAM RIDERS PREPARE FOR DOUBLE THE RACING IN MISANO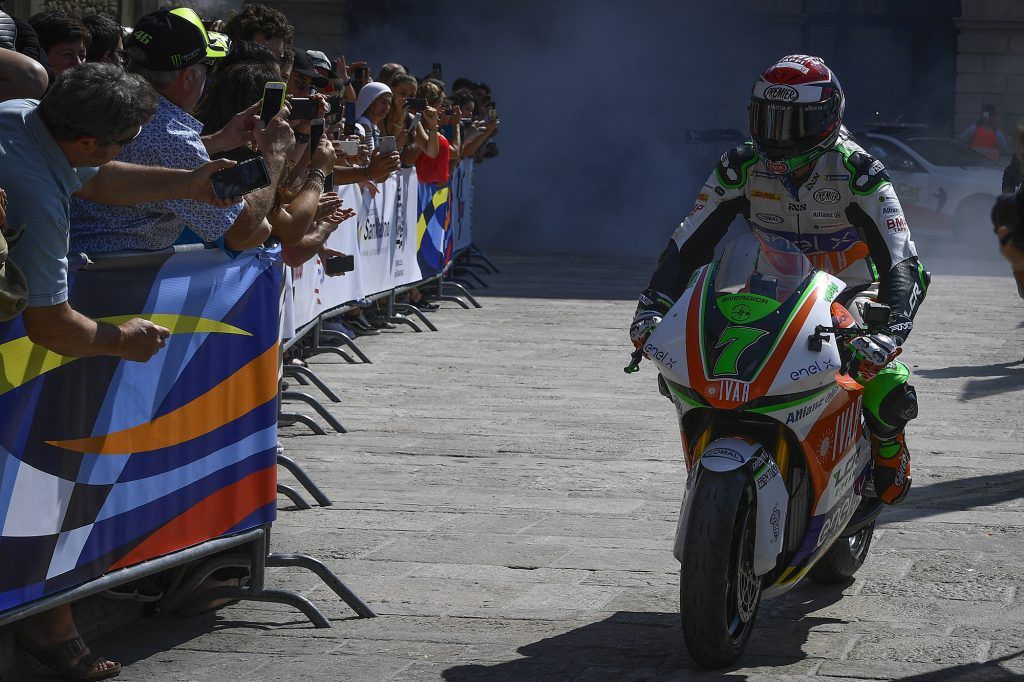 This weekend at the Misano World Circuit, the 3rd and 4th rounds of the Enel MotoE World Cup will be held. This weekend poses a bigger challenge to MotoE riders than previously as this time there are two races across the weekend. Race 1 will be held on Saturday afternoon, with the E-pole session moved forward to Friday, and race 2 will be on Sunday morning. LCR E-Team riders Niccolò Canepa and Randy de Puniet made their final preparations for the weekend today.
This morning, Niccolò Canepa took part in a thrilling pre-event organised by Dorna, riding his Energica machine through the winding streets of San Marino centre along with other Italian riders from Moto3, Moto2 and MotoE. Crowds gathered to see the spectacle and appreciate the power of these ultra-modern machines, juxtaposed with the historic buildings of San Marino centre. Niccolò enjoyed this chance to meet and interact with fans ahead of the weekend.
Later today, Niccolò also took part in the MotoE talk show in the paddock. During the talk show, he and the other riders present discussed how they felt about their season so far in this new championship as well as how they are approaching this weekend with the challenge of two races.
Both Niccolò Canepa and Randy de Puniet wish to continue the improved performance from the previous race in Austria and finish in high positions in both races this weekend. Niccolò Canepa hopes to draw strength from the fans at his home race to give him an extra boost in the races!
Niccolò Canepa;
"It was great to go to San Marino with the MotoE bike today, it's really impressive how fast the bike is when you ride it on the normal roads. The event was great, there was a lot of people and a big crowd, it's always great to be at your home round and see all these people. Looking towards the rest of the weekend, this is the first weekend that we will have 2 races; one on Saturday and one on Sunday. It's a new format for us with the E-pole on Friday, but I want to continue with the positive performance that I had in the last race. I want to keep improving my riding and understanding of this bike. When you breathe the home air you always have a little bit more motivation so I will try to give my best to achieve a good result this weekend!"
Randy De Puniet;
"I'm really excited to race in Misano as it's an important race for the team with many fans and partners coming to support us. After the race in Austria, I feel more confident with the bike; we have two races this weekend which is good as we can spend more time on the bike. I hope to complete two strong races, to fight in the top positions and to find the level I lost after my crashes again. I'm quite  confident!"