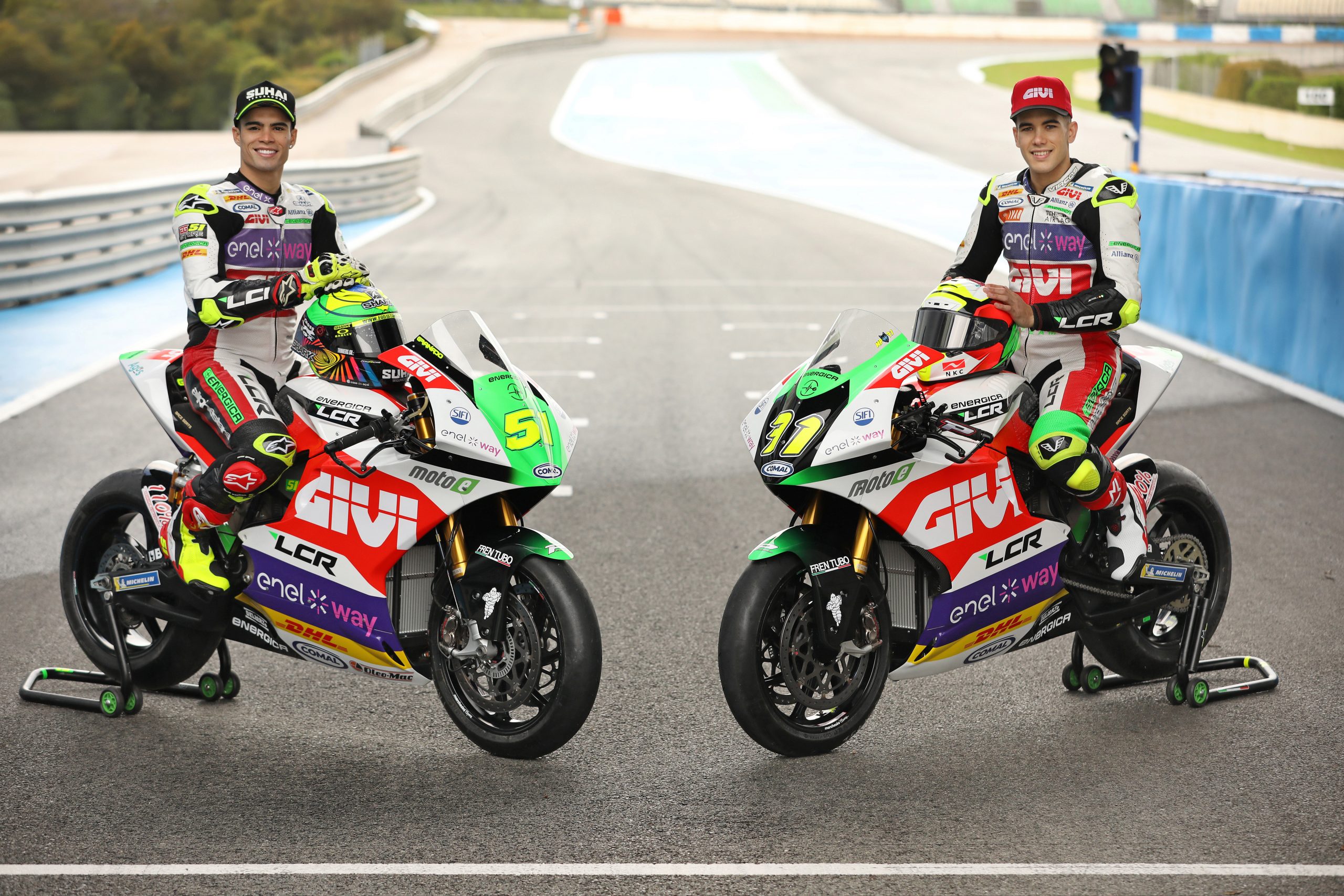 Height: 1,73m
Weight: 69kgs
Date of Birth: 01/08/1997
Place of Birth: Mallorca, Spain
Instagram: @miquelpons77
Miquel Pons was born on August 1st, 1997 in Palma de Mallorca, Spain.
He started riding motocross at the age of 6 and won several junior local championships in the Balearic Islands.
Pons moved on to road racing in 2008 and became the Spanish 600 SuperSport Champion in 2013. He also participated in the European Moto2 FIM CEV Repsol in 2014, 2015, 2018 and in 2019.
The Spaniard is the 2016 Vice-Champion in ESBK ( Spanish SBK) in the 600 SuperSport category. He has also participated in World SBK races, in the same category, consistently finishing within the points.
In 2021, he joined the LCR E-Team riding the Energica Ego Corsa. His MotoE debut win came in Barcelona followed by a podium in San Marino.
Miquel remains with LCR for the 2022 season, his aiming to accumulate further victories in the all-electric category.

Height: 1,73m
Weight: 70kgs
Date of Birth: 10/06/1996
Place of Birth: São Paulo – Brasil
Instagram: @ericgranado
Eric Granado was born on June 10th, 1996 in Sao Paulo (Brazil). His passion for motorcycle riding began at a very young age. He started his motorcycle racing career in 2003, at age 7 won the local Sao Paulo Championship and finished runner up in the regional Schincariol Championship. In 2005 he became the youngest winner of a race in the Brazilian MiniGP Championship.
Having shown early potential, Granado travelled to Europe to further develop and progress as a rider. In 2007, he won the Spanish Mini GP 70cc Championship and in 2008, the 80cc title.
The next three years saw the youngster compete in pre-125 and 125cc races in the Spanish and Mediterranean Championships, finishing 5th in the 2011 CEV Spanish Championship 125cc class at age 15.
2012 saw the Grand Prix rookie contest his first year in the Moto2 class, joining just before the Silverstone round. In 2013, he dropped down to Moto3 to hone his race-craft before moving to the Moto2™ European Championship in the FIM CEV Repsol in 2015.
The next two years of strong results and improvements were rewarded in 2017, when Granado took six victories and the title at the final round in Valencia to become the Champion. For the 2018 season, the Brazilian rider returned to the Moto2™ World Championship but they parted ways with the team before the end of the season.
The Brazilian talent has participated in the FIM MotoE World Cup since the inaugural season in 2019 and has become one of the top riders in the series over the years.
The first season with electric motorcycles was a successful one as Granado managed to take two victories. His good results led him to a top three finish overall.
Eric was unable to scale those heights again in 2020, recording a P7 Cup but accumulated yet another victory by winning the season opener race in Jerez. In 2021, Granado was a strong title contender but had to settle finishing 4th overall earning 3 more podiums with victories in LeMans and Assen.
For his 4th season in the all-electric class, Eric joins Lucio Cecchinello's LCR E-Team hoping that together, they will win the FIM MotoE World Cup.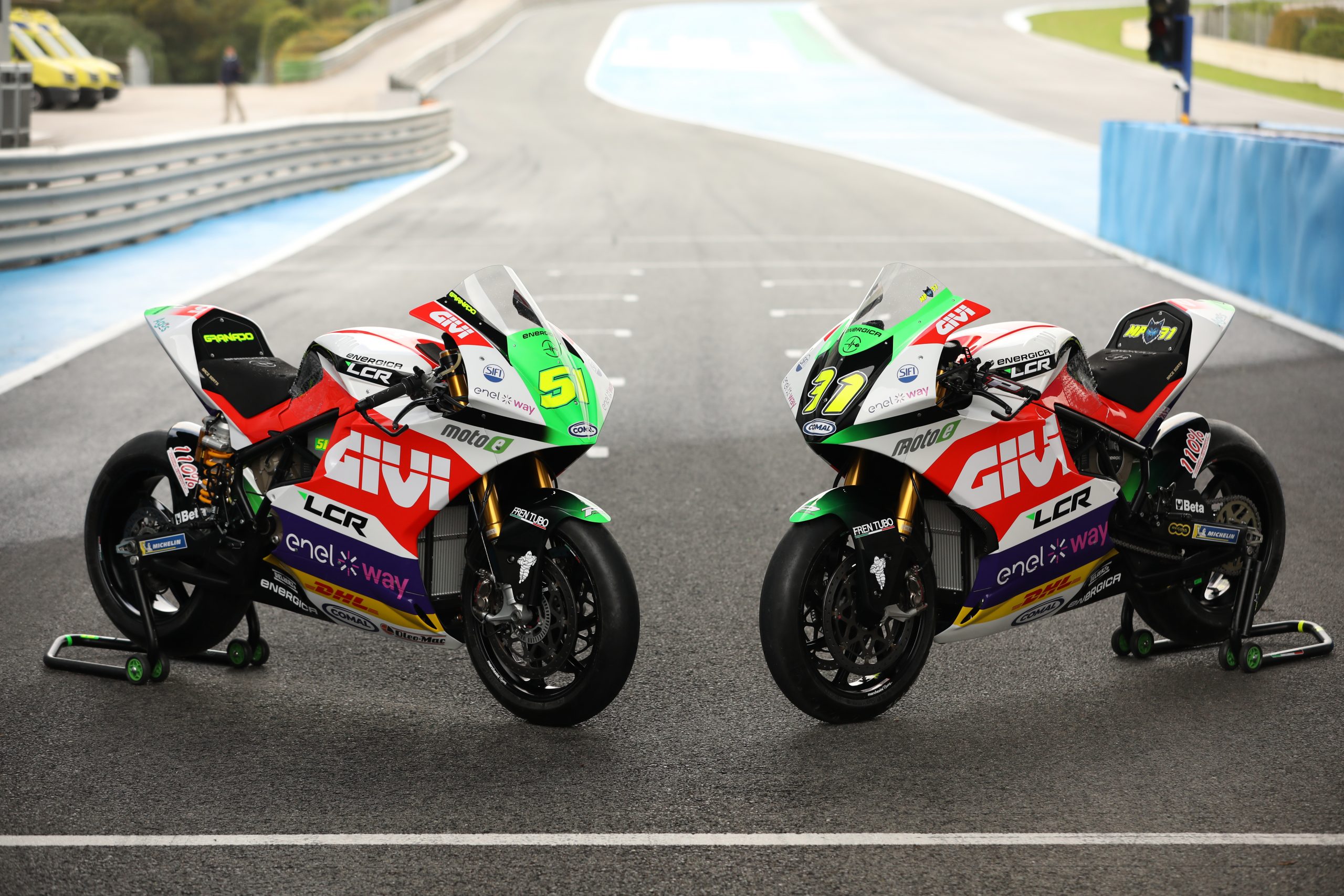 Motor
TYPE:
Permanent Magnet AC, Oil Cooled
Performance
MAX SPEED:
Up to 270km/h – (168 mph)
POWER KW (HP):
Around 120 kW
TORQUE:
215 Nm from 0 to 5000 rpm
Battery
BATTERY:
High Voltage Lithium Ion
Battery pack: approx. 20 kWh
RECHARGE:
Fast Charge DC Mode 4
Cycle parts/brakes
FRONT AND REAR WHEEL:
Forged Aluminium
FAIRINGS (CRP TECHNOLOGY):
Composite material Windform®
FRAME:
Steel Tubular Trellis
SWINGARM:
Cast Aluminum
TYRE:
Michelin MotoE developed tyres
FRONT FORK:
Ohlins FGRT, adjustable in preload rebound and compression, with pressurised cartridge
REAR SUSPENSION:
Ohlins AG PRX, adjustable hydraulic preload, rebound and compression
BRAKES:
330mm steel T-Drive rotors (f), Brembo GP4 Nickel-plated four-piston monoblock radial-mount calipers, Z04 pads, and Brembo master-cylinder, 220mm rotor (r), Brembo caliper


All Grand Prix Events feature two races
All dates, events and the eventual attendance of spectators are subject to the evolution of the pandemic and the approval of the corresponding
Governments and authorities.