E-POLE SHOOTOUT SETS THE GRID FOR TWO RACES IN SAN MARINO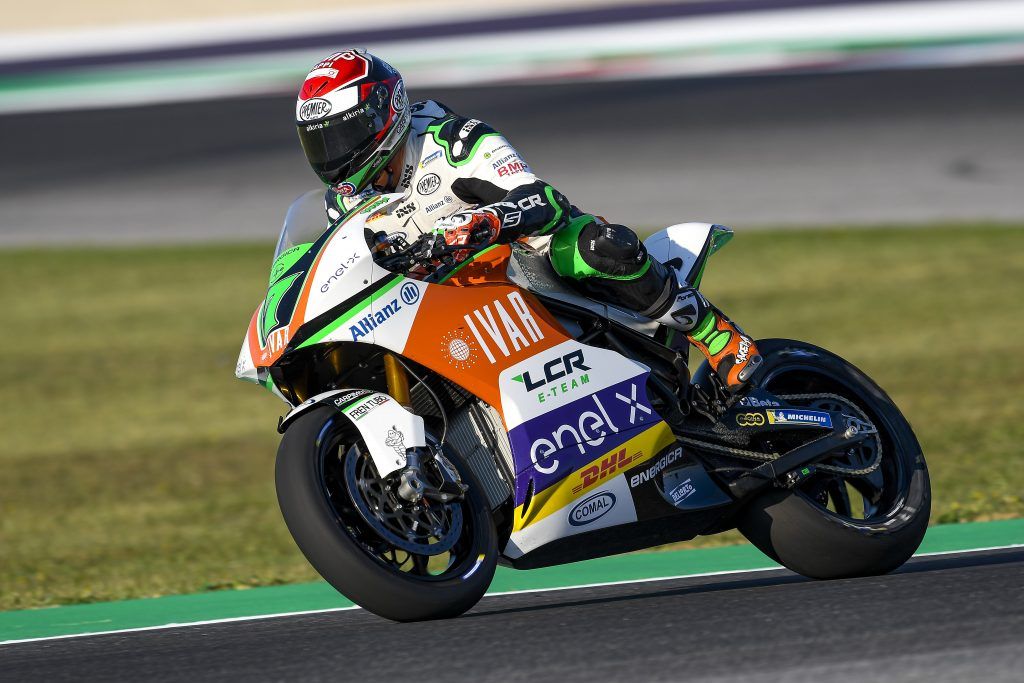 Today, MotoE riders enjoyed a lot of track time on their Energica machines, with two free practice sessions and the E-Pole qualifying session. The two practice sessions allowed LCR E-Team riders to prepare for the E-Pole and ensure they were ready to give their all for the best grid position possible.
MotoE FP1 started the day this morning, with LCR E-Team riders taking to the Misano World Circuit on their electric bikes for the first time. Niccolò Canepa finished inside the top 10, whilst Randy de Puniet worked on improving his confidence on the bike. In FP2, Niccolò continued to improve to finish 5th in the combined times, less than half a second away from the top rider.
The results from the combined practice times meant that Randy was 2nd to go out on track in the E-Pole session due to finishing 17th in practice, whilst Niccolò was 14th to go. There is always very high pressure on the riders during E-Pole as there is only one chance to complete the perfect lap; Randy de Puniet completed a clean lap without mistakes to start 14th on the grid, whilst Niccolò Canepa produced a fantastic performance to qualify 5th.
The E-Pole session was especially important this weekend as this session decided the grid positions for both races. The first race will take place at 16:15pm local time tomorrow.
Niccolò Canepa – 5th;
"I'm really, really happy because I am improving every time I ride this bike. We finished the race in Austria in 8th place and here we will start both races in 5th place. It was so important to do well in qualifying for both races. The E-Pole was my weakest point in the other races because for me was so difficult with only one lap, but I did it! I did a good lap, not perfect but the pole position was not impossible to achieve. Anyway, second row is great. I will try to do my best in front of the Italian people tomorrow and Sunday!"
Randy De Puniet – 14th;
"I'm not happy with the result, my feeling on the bike is still not good enough. I need to gain more confidence, in the races I hope to follow other riders and score some points."