LCR E-TEAM RIDERS COMPLETE THE INAUGURAL MOTOE RACE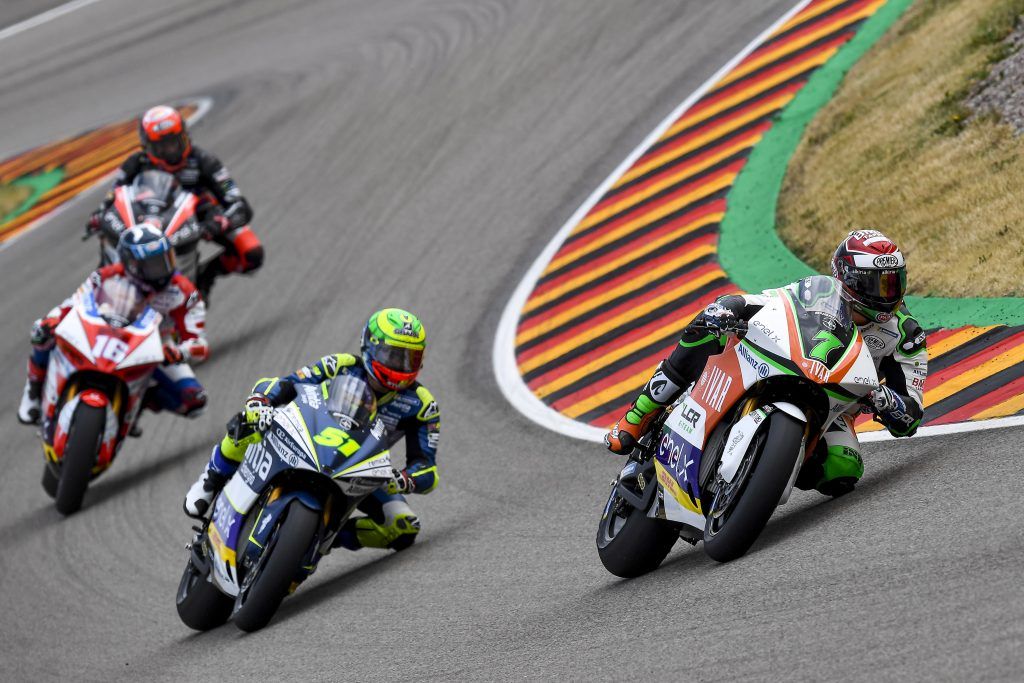 The FIM Enel MotoE World Cup is now officially underway, with the first race completed at the Sachsenring. The race was officially meant to run for 8 laps, though was reduced to 7 laps at the start due to the wet conditions. The race was red flagged due to a crash that damaged the air fence, so the result given is the running order as of lap 5.
Another issue riders had to contend with was the weather, with the race officially declared as wet. Both practice sessions and the E-pole session ran in warm, dry conditions, so there was an added challenge of adapting to the bike on the wet track.
For LCR E-Team rider Niccolò Canepa, contact on the first lap pushed him further down the rankings, though he rode well to put himself back into the top 10 at the time the race was red flagged. As the result was given from lap 5, he officially finished 12th. For Randy de Puniet, the Frenchman is still struggling to gain confidence and the correct feeling on his Energica bike, especially following the bad crash he suffered at the Valencia test. The riders both look forward to gaining more experience on the bike and hopefully improving in future races.
Niccolò Canepa – 12th:
"I'm really upset because I had contact in the first lap – I was in 8th place and was put back to 14th place. I was coming back into the top 10 and was 10th when the red flag came out but they gave the results from the previous lap so I was actually 12th in the results. I feel frustrated because I think this time a 5-lap race is too short."
Randy de Puniet – 17th:
"It was not an easy race – since the beginning of the weekend, as I've explained before, I have zero feeling and I'm not confident after crashing in Valencia. I really hoped to get some more confidence and speed during the race, but it was not the case. I'm sorry to the team and the sponsors but I was not able to do better today. I hope after the break I will feel better on the bike so we will see for the next race."